Supporting Farmers in Stressful Times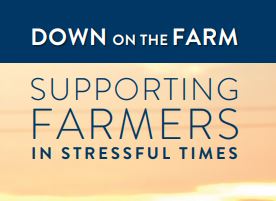 Stress factors are on the rise for Minnesota farmers. Many face financial problems, price and marketing uncertainties, farm transfer issues, production challenges and more. You may know farmers who are struggling with stress, anxiety, depression, burnout, feelings of indecision or suicidal thoughts.
Maybe you want to help but aren't sure what to say or do. Or maybe you find yourself having to deliver difficult news to farmers. This three hour workshop (available from 9:00 a.m. to noon OR 1:30-4:30 p.m.) will help you recognize and respond when you suspect a farmer or farm family member may need help.
Generous underwriting support means the $100 course is available at no cost to you. Registration is required at www.mdadownonthefarm.eventbrite.com. There are additional sessions around the state (see the brochure for more information); attendance is limited to 50/session.