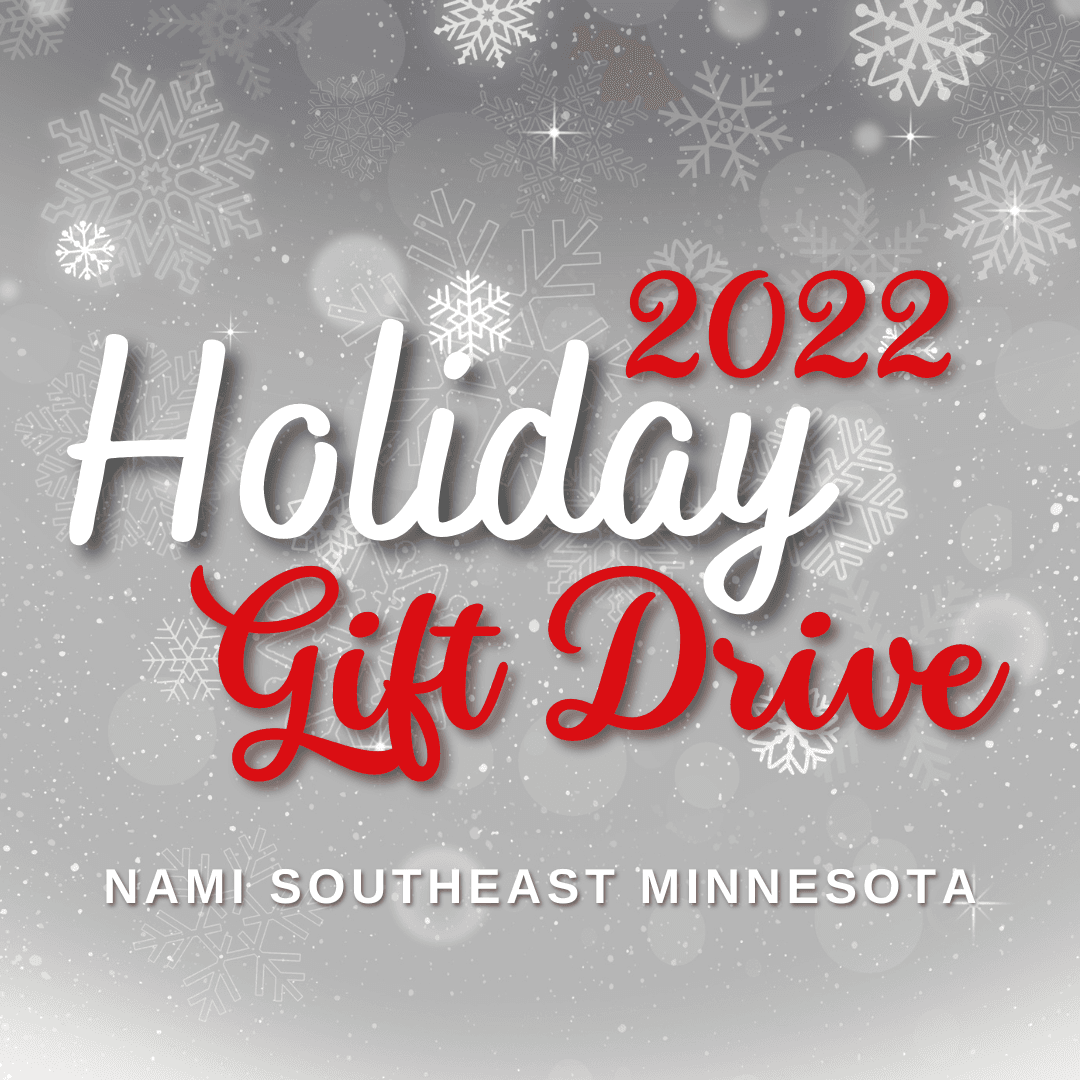 Spending time recovering from challenges in the hospital is sometimes necessary for those with a mental health diagnosis, but it's not always easy.
Especially when you're spending the holiday in the hospital.
NAMI Southeast Minnesota recognizes that spending the holiday receiving inpatient mental health treatment can be an extremely difficult experience. That is why every December, we donate gift bags to those in Southeast Minnesota receiving inpatient mental health treatment. We want to support people in their recovery while also offering some holiday cheer.
Last year, we donated over 120 gift bags to inpatient facilities in Rochester, Minnesota. We had great success with many units telling us how much those receiving inpatient mental health treatment loved and appreciated the gifts they received over the holidays.
Due to the positive feedback received, we are excited to be expanding our services to more facilities outside of Olmsted County. NAMI Southeast Minnesota will be donating over 170 gift bags to both adults and children receiving mental health inpatient services at 8 different facilities in SE Minnesota.
To make this a successful gift drive, we really need your help. We rely on donations and volunteers to make the magic happen.
Gift bags donated receive many of the following items:
Stickers
Magnets
Card games
Bookmarks (with no string)
Chapstick
Warm socks for adults and teens
Stress balls
Fidget toys
Small stuffed animals
Candy and snacks
Hats and mittens
Personal care products
In the days before December 25th, staff and volunteers work together to both compile gift boxes and deliver boxes to mental health inpatient units in the area.
How to Donate Gifts
If you would like to help donate items for gift bags, you can do so in the following ways:
Shop our Amazon Charity List Here: Items purchased from our charity list will be shipped directly to our office. All you have to do is purchase, and we will take care of the rest!
Send Gift Cards or Cash to NAMI Southeast Minnesota: If you would like NAMI SE MN to do the shopping for you, we are happy to do so! Please scroll to the bottom of this page for information on how to drop off cash or gift cards with staff.
Shop Wishlist Items and drop them off with NAMI SE MN Staff: If you would prefer to shop items from the wishlist above yourself, please go ahead and do so! Please scroll to the bottom for more information on dropping off items.
For safety of those who are receiving gift boxes, please do not donate items containing the following items: String, sharps, glass, and other hazardous materials. We will also not be donating pens or markers. If we receive donations containing items not allowed, they will be stored at the office to use for future events or office needs.
All gifts must be donated by Tuesday, December 20th, 2022 to be included in gift bags.
Volunteer Opportunities
We are also looking for volunteers to assist putting together gift boxes as well as helping with delivery between December 21st and December 23rd, 2022.
We would also love to include handmade cards with our gift boxes this year, which could be made by schools, churches, and other organizations.
Our Holiday Gift Bag stuffing event will be on Wednesday, December 21st, 2022 from 1pm-3pm.
Gift box deliveries will be made between December 21st, 2022 and December 23rd, 2022. We are looking for people to deliver gift boxes to facilities in Rochester, Winona, Austin, and Owatonna.
How to Contact Us If You Are Interested in Helping
If you plan to donate cash/gift cards or drop off gifts directly, volunteer with stuffing gift boxes, assisting with deliveries, or would like to have your organization create cards to include with gift boxes, please contact the office at 507-287-1692 or email the office to arrange drop off due to our move. 
You may also fill out our volunteer application here.
Thank you so much for showing love and holiday cheer to those who need it most this holiday season.